Nu-Mega products have been a trusted brand for high quality DHA (Docosahexaenoic Acid) oil and micro encapsulated omega-3 and omega-6 oils since 2001. These products are designed to deliver health outcomes in a stable and bioavailable format.
Nutritional Benefits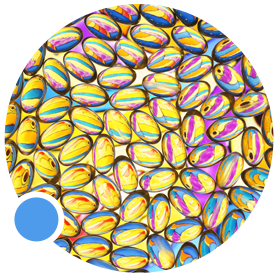 The three principle health benefits attributed to consumption of the long chain Omega-3 PUFAs (Polyunsaturated Fatty Acids), EPA (Eicosapentaenoic Acid) and DHA (Docosahexaenoic Acid) are:
Brain Development and cognitive functioning.
Developmental and maintenance role in visual acuity.
Cardiovascular health and disease prevention/recovery.
World Class Technology
Clover's superior microencapsulation technology enables nutritional oils, such as tuna, fish, algal and fungal oils, to be added to infant formula, foods and beverages. Developed through extensive research and development, our proprietary technologies protect those sensitive oils from oxidation, allowing them to be incorporated into a range of applications. All of our products reach the highest standards of purity, stability and performance, allowing you to maximise and deliver nutrition whilst masking unpleasant taste and odour.